Gorgeous wild lavender can be spotted along our country roads, fields are overflowing with the loveliest of purples, and the smell of the Lavender in the warm summer air is glorious. Yes, its officially is Lavender season! In honor of the beauty of this season, we are thrilled to introduce our NEW LAVENDER LOVE COLLECTION to you! Bringing you 5 prints in lovely lavender hues. Florals, Paisleys, & Eyelets just in time for Summer! Meg's Lavender Love Collection & Cecily's Lavender Love Collection. Also new, Vintage Button Headband in Lavender! And for the cupcake lovers don't forget to take a look at the recipe on the bottom of this post ↓!
---
Lavender Lemon Cupcakes
And we can't forget to offer something edible to this sweet treat! :) My Lavender Lemon Cupcakes are a favorite here at Garlands of Grace. Moist Lemon Pound Cake, naturally colored(I used blueberry juice for a lovely purple color) Lemon Creamcheese-buttercream frosting, and a touch of edible Lavender on top of this cupcake for a beautiful presentation and burst of flavor!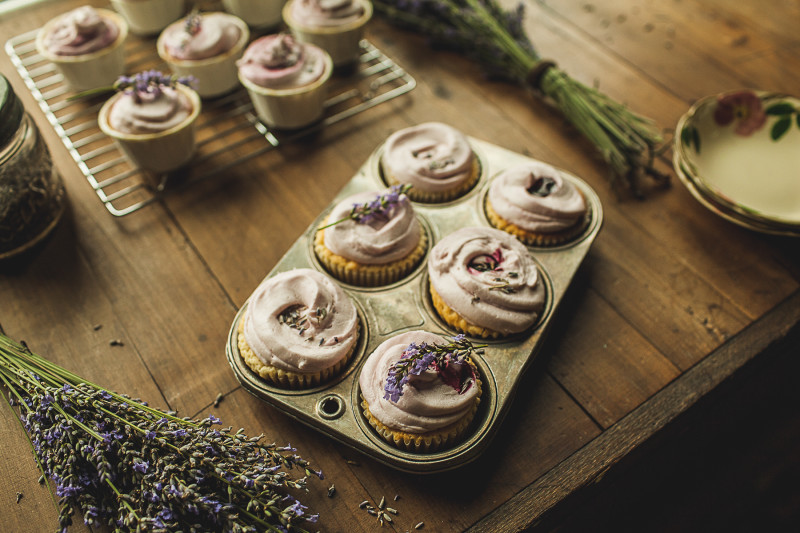 [yumprint-recipe id='1′]

"Consider the lilies how they grow: they toil not, they spin not; and yet I say unto you, that Solomon in all his glory was not arrayed like one of these."
Luke 12:27